We are here to serve the seniors of our community.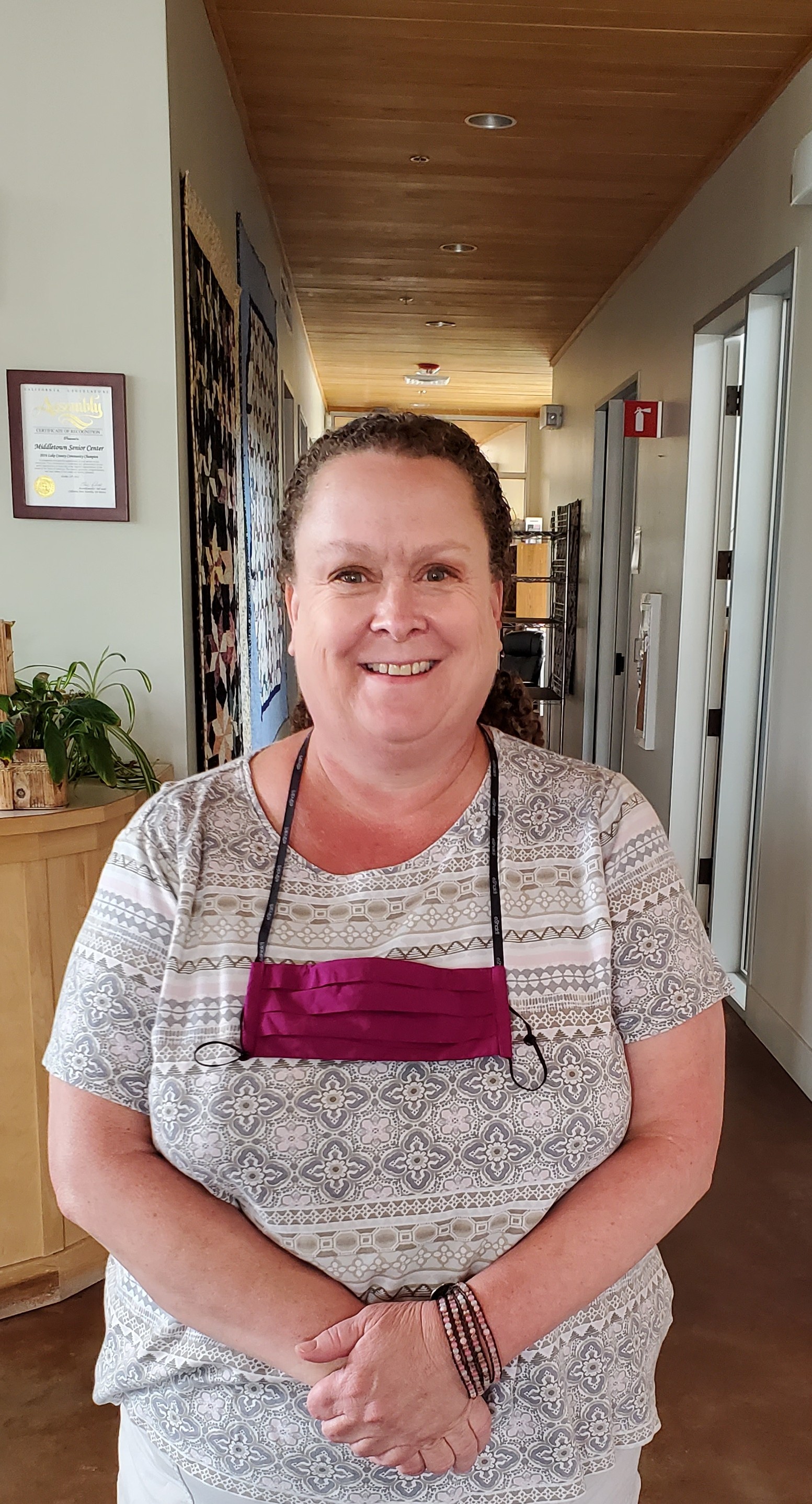 Lori Tourville, Executive Director
Donna Crofoot, Administrative Assistant and Outreach Coordinator

Director's Message
I hope everyone is enjoying their families and friends. It has been quite a while since we could intermingle with people. We hope this continues into the future. Everyone, be careful and protect yourselves and your loved ones. We do now know how to avoid the flues and viruses and Covid's. Think again in favor of vaccinations and boosters. They really do work. If they don't protect you from contacting one of the above, they certainly reduce the severity of the illness.
We are up to an average of 13 diners who eat on the premises. It is wonderful hearing other peoples' voices. The voices come with outbursts of laughter. What a pleasant "noise". Hopefully the volume continues to grow.
The Share The Love Event on December 15 was a huge success. We collected socks for all of our home-bound seniors. Participants in the Event started bringing in socks two weeks early. Warm socks are always a treat when the temperature drops and the last thing to warm up besides yourself is the floor. Thanks to all of you. Remember, if you purchase or lease a Subaru before January 3, you may select Meals on Wheels as your recipient of a $250 donation from Subaru. We normally hear back from Subaru in May as to our share of the $250 donations allotted to Meals on Wheels.
We could use more volunteers to deliver meals on an on-call basis. There are times when our regulars need a day off for an appointment or vacation. Each delivery route takes approximately 2 hours to complete. We deliver to Cobb two days per week (Tuesdays and Thursdays), to Middletown and to Hidden Valley Lake (Mondays thru Fridays). Our Meals on Wheels recipients are appreciative of all efforts extended towards them. Meals on Wheels makes it possible for those unable to cook for themselves to remain in their own homes.
The main element in the Meals on Wheels program is drivers. Without our drivers, eating at home could not happen.
Lori
Provides free and objective information and assistance in dealing with Medicare, Medi-Cal, HMO's , long term care insurance and other health insurance issues. HICAP provides two main services: individual counseling and community education presentations. Local appoints are available with a registered volunteer. To schedule a one-on-one counseling appoint with a HICAP counselor, call 1-800-434-0222, ext. 117.
Information
and Assistance
A free service for seniors 60 and older in Lake and Mendocino counties, linking older individuals and their caregivers to appropriate community resources available to meet their needs. Senior I & A will help you know about area services and whether you qualify.

Senior Hot Line Available:
1-800-510-2020
Senior Legal Assistance
The program provides free legal assistance, education, advice, counseling and representation to Lake & Mendocino county seniors in the following areas:
Elder Abuse
Housing Rights
Public Benefits (health, income & supportive services)
Consumer Protection and Debt
Incapacity and long-term care
Legal Services of Northern California
421 N. Oak Street
Ukiah, CA. 95482