The Senior Center is open
9:00 am - 2:00 pm
Monday-Friday
To receive a fresh meal on weekdays,

please call 707-987-3113 before 10:00 am for dining in at 12 pm.


2 Facts about the Middletown Senior Center

The Middletown Senior Center regularly checks temperatures of all meals. The Middletown Senior Center Meals on Wheels are made in our kitchen and packaged hot and placed in a hot box with heat stones, cold portions of meals are placed in coolers with cold packs. Meals are promptly packaged and sent out at 11:00 am. Our Meals on Wheels drivers check the temperature of cold and hot food at the start of delivery and when the last meal is delivered. Our routes (Middletown, Hidden Valley, Cobb) take 2.5 hours or less.

Anyone is welcome to see a copy of our health inspection report, just stop by our office.
WE COULD USE YOUR HELP (707) 987-3113
We wish to keep our membership list up-to-date. We are not always notified when relocation has occurred. If you know of anyone who have moved 'for any reason', please call and let us know.
If you have a couple of hours each week, we could use more Meals on Wheels drivers. We need drivers who can serve as "on call" to step in when a "regular" needs the time off. We could use more servers and greeters as dining in is growing. More volunteers for the Thrift Store as well as donations for the Thrift Store are also welcome.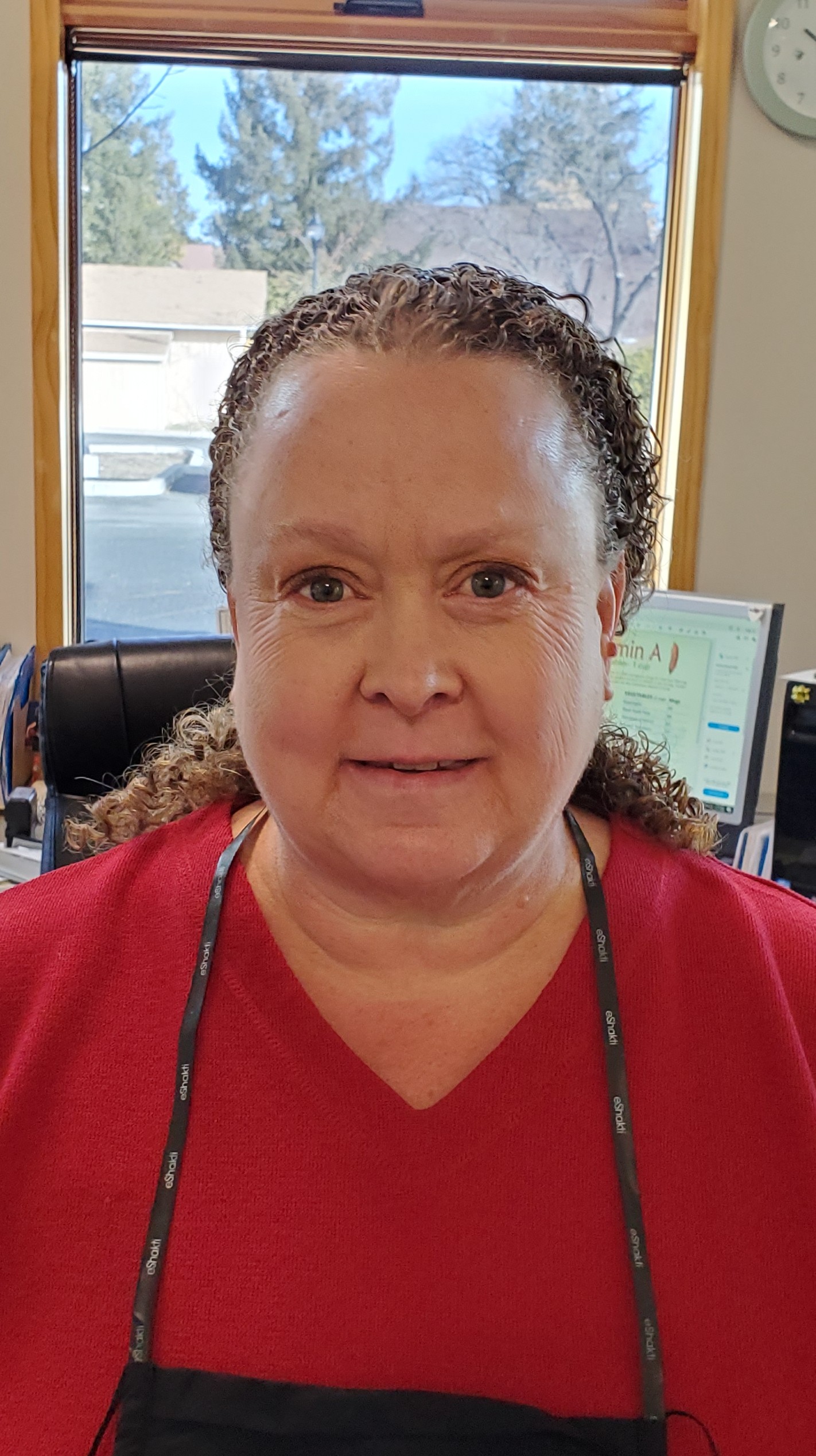 Lori Tourville,
Executive Director
The Middletown Senior Center is reaching out to volunteers to assist seniors in our service area.
The needs of our seniors in the Middletown, Cobb and Hidden Valley area have increased due to this active health emergency. Hardesters Market is offering curbside delivery in their parking lot for seniors that are 65 and over or others who are immune sensitive. If you wish to use this service, you can call your local Hardesters (HVL 1-707-987-2200, Cobb 1-707-928-5233). If you are a senior in need and are not capable of picking up your curbside groceries from Hardesters please call the Middletown Senior Center at 1-707-987-3113 and we will make every effort to find a volunteer to assist you. If you are a senior and have a prescription that you are not capable of picking up, you can make arrangements with your pharmacist regarding payment & pick up, and we will do our best to arrange a volunteer to pick up and deliver your prescription.
Click to edit text. What do visitors to your website need to know about you and your business?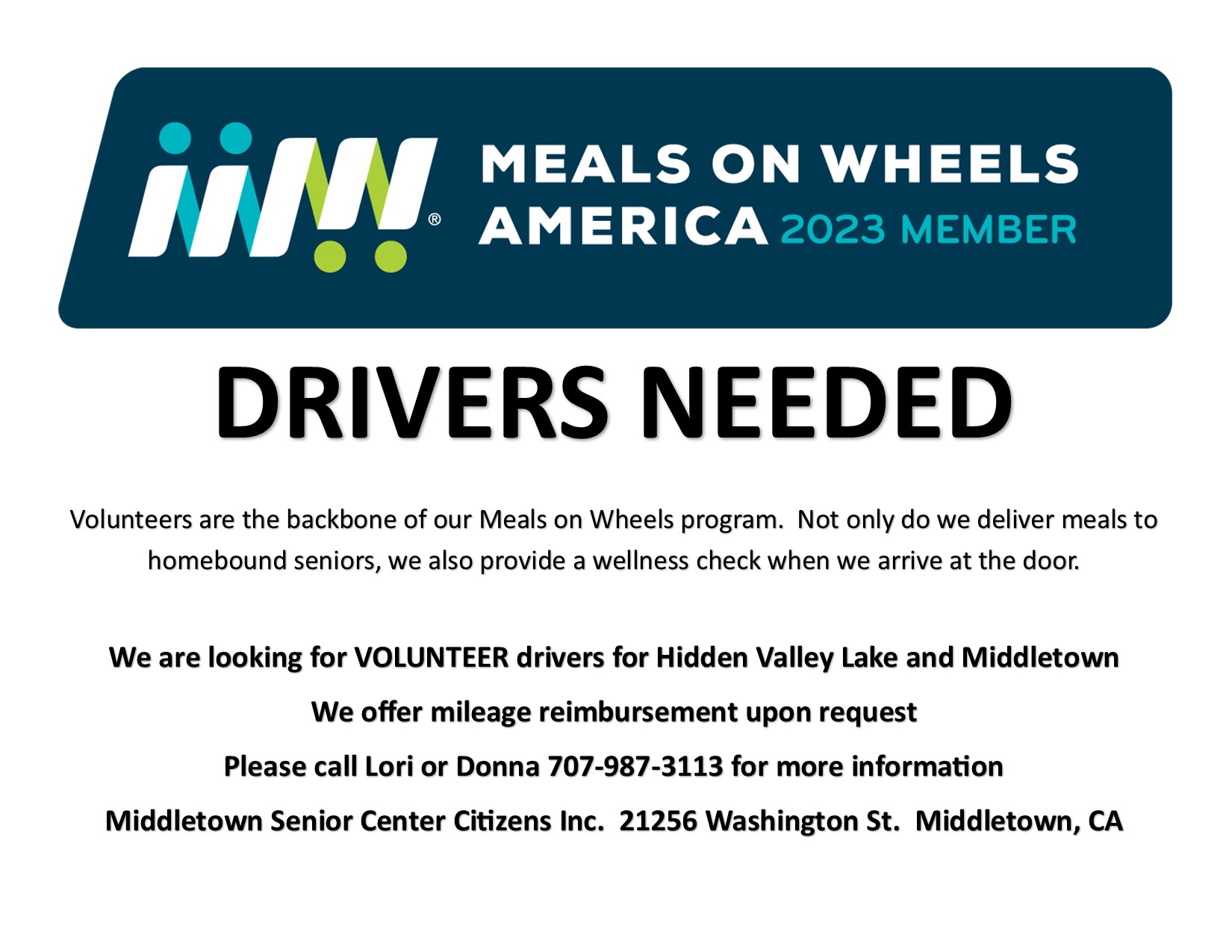 Non-Discrimination Policy
No person is excluded from participation,
denied benefits, or subjected to
discrimination based on race, national origin, ethnicity, religion, age, sex, sexual
orientation or mental or physical disability or any other characteristic protected by law.
No senior will be denied services regardless of ability to pay. Suggested donation per meal is $5. All or partial
payment, while appreciated, should be based solely on your comfort zone.


FOR YOUR INFORMATION
On a serious note, we have had many, many complaints on the cellophane wrap we use on our meals to go. I'm with all of you. I can't stand it either. The problem is we have the same supplier, but our supplier doesn't have the same manufacturer. Their manufacturer seems to be using a different formula for producing cellophane wrap. It stinks. And guess what—they are using the one and only supplier of cellophane for "to go" meal containers. I kid you not.
To assist, it helps if you run a knife around inside each compartment instead of starting outside a compartment. It seems to have less points for adherence. It is an added annoyance and insult to injury to have the stuff stick to your fingers. Pieces are, also, seen floating through the air in homes.
I have complained to both the supplier and the manufacturer about their product. The solution so far is patience, patience, patience. It isn't fair. Companies should take pride in their products. Either that or monopolies should not exist.